Textiles - TEXTA23926
Stream Summary
Faculty: COFA - Faculty of Art & Design
School: School of Art & Design
Contact: www.artdesign.unsw.edu.au
Program: 3926 - Science / Fine Arts
Award(s):
Bachelor of Fine Arts (Minor)
View stream information for previous years
Stream Outline
Students in the Textiles studio create innovative and contemporary designs for textiles. They work with traditional and experimental materials, structures and new technologies. Students in this studio understand contexts for designing; how to develop innovative concepts; the narrative role textiles play in reflecting and documenting contemporary society; and the social, sustainable, re-use and environmental issues associated with textiles practice.
Stream Structure
The Textiles Studio consists of 4 courses (24 UOC) from the following list. Students must complete at least two Level 2 courses before proceeding to Level 3 courses.

Level 2
Level 3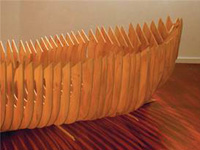 &nbsp