Advanced Physics - PHYSC13938
Stream Summary
Stream Outline
Physics is the study of the laws of nature that govern the behaviour of the universe, from the smallest sub-atomic particles to the universe itself. It applies these laws to the solution of practical and theoretical problems and to the development of new technologies.
Stream Structure
A major in Advanced Physics is comprised of 90 units of credit of courses as follows:

Stage 1
Stage 2
Stage 3
PLUS 12 UOC from:
Note:
Students who are completing a double major in Mathematics and Physics should substitute MATH2111 Higher Several Variable Calculus and MATH2621 Higher Complex Analysis for MATH2069 Mathematics 2A; and MATH2301 Mathematical Computing and MATH2901 Higher Theory of Statistics for MATH2089 Numerical Methods and Statistics.

Recommended science electives: (these are not compulsory but may complement a major in Advanced Physics) include PHYS1160 Introduction to Astronomy; CLIM2001 Fundamentals of Atmospheric Science; and BABS6741 Astrobiology: Life in the Universe.
Honours
For further information on Honours in Physics, please see the
Physics Honours
entry in this Handbook.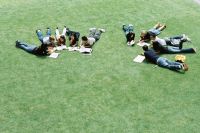 &nbsp