German Studies - GERSF23948
Stream Summary
Stream Outline
This stream structure is for the following students:

• Bachelor of Arts, Bachelor of Arts and Business, and Bachelor of Media students commencing from 2016
• Bachelor of International Studies students commencing from 2017

German Studies at UNSW places special emphasis on integrating the study of social, historical and cultural developments in Germany with the teaching of practical language skills. This approach aims to enable you to achieve a high level of communicative competence in German while offering you a critical understanding of this fascinating modern European society.
Students in the intermediate and advanced sequences who will complete some components of their sequence via cross-institutional study are advised that they are responsible for enrolling themselves before the appropriate UNSW and partner university deadlines for cross-institutional enrolment, which fall well before the beginning of regular UNSW teaching periods. See
Cross Institutional Study
.
Each course of cross-institutional study requires approval from the German Studies convenor, with whom students must consult at an early stage to discuss the selection of courses. Students who successfully complete German Studies courses cross-institutionally will have their results reported as transfer credits at UNSW, i.e. specific grades will not appear on their transcript.
If in a given semester you are unable to take appropriate courses cross-institutionally you may be eligible to apply for an individual variation of program.
Placement Information
If you have prior language knowledge you will need to take an online placement evaluation so that we can assess your skills and select an appropriate level of course for you. Information about the evaluation and additional course details can be found on the web at: hal.arts.unsw.edu.au
You will not be permitted to enrol in language courses that are too easy for you. If this occurs, you will be requested to change your enrolment.
If you are admitted in your first year of study to ARTS2510 or higher on the grounds of ability and/or previous study, such courses will be counted as Level 1 courses in terms of degree requirements.
You should achieve the following learning outcomes upon the successful completion of the stream:
Use the German language with a level of fluency and understanding equivalent to a basic user as articulated in the Common European Framework
Articulate a general understanding of German-speaking society and culture, past and present
Recognise linguistic and cultural diversity
Stream Structure
If you wish to gain a minor stream in German Studies you must complete 24 units of credit in approved courses.

Note: If you have achieved a higher level of study in a language course you are not permitted to study a lower level language course.
Introductory Level
Level 1

You must complete the following Level 1 core courses:
Level 2

You must complete 12 UOC from the following:
Intermediate Level
Level 1

You must complete the following Level 1 core courses:
Level 2

You must complete 12 UOC from the following:
Advanced Level
Level 1

You must complete the following Level 1 core courses:
Level 2

You must complete 12 UOC from the following: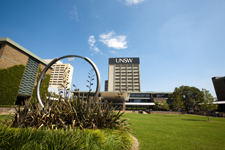 &nbsp