Criminology - CRIMC23948
Stream Summary
Stream Outline
THIS STREAM IS FOR STUDENTS COMMENCING FROM 2016.

Criminology is an interdisciplinary field devoted to the study of crime, deviance, social control and the legal system. Over the past 50 years, criminology has evolved into a rich, broad-based discipline, no longer narrowly focused on crime and punishment. Contemporary criminological scholars investigate a broad range of topics including justice, conflict, risk, security, insurance, policing, governance and regulation. Criminology is shaped not only by scholars in law, philosophy, psychology and sociology, but also those in history, politics, economics, architecture, cultural studies, and other interdisciplinary fields.

Criminology aims to provide you with a critical and informed understanding of crime and justice issues in contemporary society. At UNSW we use an interdisciplinary approach that integrates disciplinary knowledge from Sociology, Psychology, History, Law and Policy Studies, to provide a critical and theoretically informed understanding of crime and the justice system, criminal law and procedures, criminological research methods, as well as a range of current issues with respect to social control, juvenile justice, human rights, regulation, and penal policy.
You should achieve the following learning outcomes upon the successful completion of the stream:
Recognise a range of key theoretical approaches in the discipline of Criminology
Articulate a critical awareness of criminalisation, criminal offending, victimisation, policing, criminal law and process and penal practice in contemporary society
Explain the value of comparative analysis in local, national and international contexts of crime
Stream Structure
If you wish to gain a minor stream in Criminology you must complete 24 units of credit including 12 UOC at Level 1, 6 UOC at Level 2 and 6 UOC at Level 3.
Level 1

You must complete the following Level 1 core courses:
Level 2

You must complete the following Level 2 core course:
Level 3

You must complete the following Level 3 core course: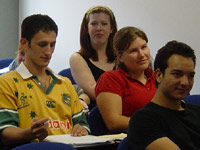 &nbsp