Molecular Biology - BIOCD23566
Stream Summary
Stream Outline
Molecular Biology is one of the most rapid growth areas in biology. It is a marriage of Biochemistry, Microbiology and Cell Biology and provides an exciting approach to the study of all living organisms. Molecular Biology represents fundamental components of biological and medical science and will have increasingly important roles to play in many aspects of modern medicine, genetics, evolutionary biology, bioinformatics, biotechnology and genomics.

Stream Structure

A minor in Molecular Biology is comprised of 42 units of credit of courses as follows:
Stream Structure
Stage 1
Stage 2 / 3
PLUS 6 UOC from:-
Note:
Students completing a major offered by the School of Biotechnology and Biomolecular Science (ie Bioinformatics, Biotechnology, Genetics, Microbiology, or Molecular and Cell Biology) cannot complete this minor in Molecular Biology.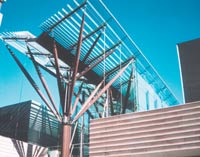 &nbsp