Physics - PHYSGH4500
Stream Summary
Stream Outline
The Bachelor of Science (Honours) in Physics is comprised of 48 units of credit. It requires studying higher-level coursework and completion of one or two independent research projects, completed under the guidance of an academic supervisor. The Honours year normally commences in semester 1 and is undertaken full-time over 1 year. Mid-year entry and part-time enrolment may be available.
Stream Structure
Students complete two coursework units (
PHYS4013 Physics Honours Coursework A
and
PHYS4014 Physics Honours Coursework B
), one in each semester. Each unit is worth 12 UOC and consists of lectures in a selection of advanced physics topics. Each course is assessed via assignments worth 30% and exams worth 70% of the final mark. Coursework contributes 50% towards a student's final grade for honours.
The other 50% of a Physics honours mark comes from completion of one or two research projects. Projects are offered in all areas of research in the School: Astrophysics; Biophysics; Condensed Matter Physics; Music Acoustics and Theoretical Physics. Projects are also offered by academics in the Centre for Quantum Computation and Communication Technology. A list of projects and supervisors will be available in the semester before students begin honours. The courses students enroll in for this component will depend on whether they are completing one year long project or two single session projects. The relevant courses are:
One-year long project:
Two semester long projects:
Physics honours projects require completion of original physics research under the supervision of an academic in the School of Physics. Students who complete a full year project are assessed by submission of a research proposal, literature review, and final thesis. Students are required to give a short talk about their research at the end of the year, but this is not assessable.

The research proposal is worth 10% of the grade for the research project. The literature review contributes 20% and the thesis contributes 70% to the final mark, and these are assessed by two academics in the School of Physics, one of whom is the student's supervisor.

Students who complete two single-semester projects will submit a research proposal worth 20% of the course grade, and a thesis worth 80% each semester. The thesis will be assessed by two academics in the School of Physics, one of whom is the student's supervisor. Students are required to give a short talk at the end of the year on one of the two projects, but this is not assessable.
Honours grade calculations
At the completion of their Honours program students will be awarded an honours grading based on their WAM for that year (weighted average mark) as follows:

Honours Class 1: WAM of 85 or greater;
Honours Class 2 Division 1: WAM from 75 to 84;
Honours Class 2 Division 2: WAM from 65 to 74;
Honours Class 3 or Pass: WAM below 65.

High performing students may be recommended for a university medal.
Admission requirements
Pathways
Students who complete an Honours program and achieve an Honours Class 1 or Class 2 division 1 are eligible to apply for higher degree research (a Doctor of Philosophy (PhD) or Masters by Research (MSc)) and scholarships such as the Australian Postgraduate Award (APA). Students who have completed Honours in Physics have also gone onto careers in areas such as commercial and government research, teaching, scientific sales and management, and financial and data analysis.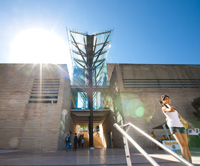 &nbsp