Mechatronic Engineering - MTRNA13711
Stream Summary
Faculty: Faculty of Engineering
School: School of Mech & Manf. Eng
Contact: http://www.mech.unsw.edu.au/
Program: 3711 - Mechanical & Manf Eng/Science
Award(s):
Bachelor of Engineering (Major)
Information valid for students commencing 2013.
Students who commenced prior to 2013 should go to the Handbook's Previous Editions
Stream Outline
This stream is for a major in Mechatronic Engineering within the program 3711.
Stream Structure
Students may seek to undertake a five-year full-time combined program leading to the award of the degrees of Bachelor of Engineering and Bachelor of Science (BE BSc). The Faculty of Engineering administers the program, and delegates administration to the School which offers the Engineering discipline selected. Students should seek advice from the relevant School Office in the first instance, or from the Faculty of Engineering. All programs must be approved by both the Faculty of Engineering and the Faculty of Science.
With the combined degree program, students complete a full, professionally accredited 4-year Engineering program (which includes Science courses) and add an additional 5th year to augment the Science component of the combined degree program. In all, a minimum of 102 Units of Credit of Science courses must be taken within the combined program, which must include a Science Major defined in Table A in the Science Handbook, or an approved Major in Computer Science where this is permitted (Computer Science may not be combined with other computing degrees).
For further information please see
program 3711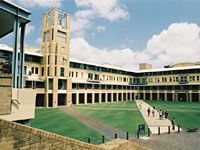 &nbsp