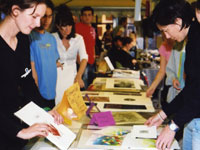 Description

This course will introduce you to 3D Computer Generated Imagery (CGI) software and it's various fundamental working practices. The course seeks to illustrate how 3D CGI relates to the broader digital media areas.

The course will explore techniques in CGI modelling, texturing, lighting, rendering and animation techniques utilising a provided bipedal character. Integration of 3D CGI elements into other digital media will also be explored.

Emphasis is placed on establishing good working practices that will serve ongoing development of skills within the field.
Course Outline