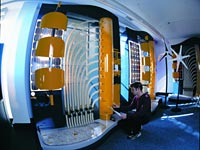 School Website

Overview

The School of Photovoltaic and Renewable Energy Engineering offers undergraduate and postgraduate training encompassing all aspects of the photovoltaic sector. The need for these educational programs has arisen due to rapid growth and evolution in the photovoltaic industry in recent years, with considerable demand by industry for UNSW developed technologies and appropriately trained engineers across the entire photovoltaic and renewable energy sectors.

The School's educational programs include training in technology development, manufacturing, quality control, reliability and lifecycle analysis, cell interconnection and encapsulation, a range of solar cell applications, system design, maintenance and fault diagnosis, marketing, policy development and the use of a variety of renewable energy technologies.

Innovative teaching techniques have been developed to enhance the learning environment. UNSW academics in this field have been consistently ranked amongst the leaders worldwide through international peer review, and have held the world record for silicon solar cell efficiencies for almost two decades. The same team has also been responsible for developing the most successfully commercialised photovoltaic technology internationally throughout the same period.
Undergraduate Specialisations

Postgraduate Specialisations

Research Specialisations