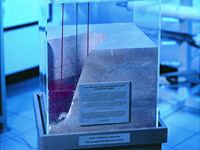 School Website

Overview

The School of Petroleum Engineering (SCOPE) was established in 1985 as a joint initiative between the University of New South Wales and the petroleum industry. Unique in Australia as the sole petroleum undergraduate training facility, SCOPE serves both Australian and international students. SCOPE offers Australia's longest standing accredited and internationally recognised Bachelor of Engineering in Petroleum Engineering degree program. It also provides vital research and postgraduate programs of study, as well as open learning programs on the Internet leading to the award of Graduate Diploma, Graduate Certificate and Master of Engineering Science degrees in Petroleum Engineering. The School also provides consulting and training for the oil and gas industry.
SCOPE's Advisory Committee is made up of senior representatives from the oil and gas industry, government, academia and the Society of Petroleum Engineers. The Committee regularly advises SCOPE's Director on current developments and issues. This ensures that SCOPE's activities, especially its educational programs and research, remain relevant to the petroleum industry's specific requirements. Industry links are also maintained through industry-sponsored scholarships and work experience and employment programs.
For further information on the programs of study offered by the School, please refer to the relevant discipline entry in this online Handbook and to the School's website as below. We look forward to welcoming you to UNSW.
www.petrol.unsw.edu.au
Undergraduate Specialisations

Postgraduate Specialisations

Research Specialisations