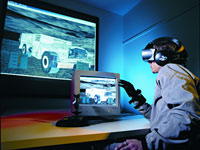 School Website

Overview

The School of Mining Engineering at UNSW rates as one of the largest and most vibrant centres of tertiary mining education in the western world. In 1999, it was described by the Minerals Council of Australia (MCA) as one of the best centres of mining engineering education in Australia because of its strong industry links, its staff profile and its vibrant student body.
The quality of the UNSW Mining Engineering program was recognised by industry again in 2000 with the establishment of a $4 million Foundation Trust to support the School. In 2001, the Institution of Engineers Australia (IEA) described the Mining Engineering Program as exemplary when it reviewed the School's accreditation.
Unlike some other disciplines at university, the School of Mining Engineering has a modest student base averaging thirty students in each year of the undergraduate program and a further forty students in various postgraduate programs. This makes for a more collegiate and caring environment where learning and social activities are intermixed.
The School of Mining Engineering has a strong research base that is closely linked to industry. A feature of the school is that a large proportion of the academic staff are drawn from industry and have strong practical, educational and research experience that is integrated into the course.
Over 30% of Australia's mining engineers in the past three decades have been produced by UNSW. This, in association with strong connections to industry, facilitates students obtaining industrial training during their vacation periods and employment on completion of their degree.
For further information on programs of study offered by the School, please refer to the relevant discipline entry in this online Handbook and to the School's website as below. We look forward to welcoming you to UNSW.
www.mining.unsw.edu.au
Phone Number

(+61 2) 9385 4515
Undergraduate Specialisations

Postgraduate Specialisations

Research Specialisations