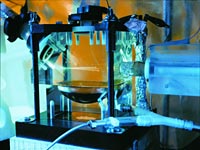 School Website

Overview

The Graduate School of Biomedical Engineering is an interdisciplinary unit which promotes and coordinates Biomedical Engineering studies and research being conducted by various Schools and Departments within the University and its teaching hospitals.
Biomedical Engineering is the application of engineering techniques and analysis to problem solving in medicine and the biological sciences. The engineering disciplines embraced within the scope of Biomedical Engineering include: Electrical Engineering, Mechanical Engineering, Computer Engineering and Chemical Engineering. Biomedical Engineering provides a direct input to enhancing the quality and scope of health care through the application of engineering analysis to biological systems and introducing engineering principles to medical and surgical interventions.
For further information on the programs of study offered by the School, please refer to the relevant discipline entry in this online Handbook and to the School's website as below. We look forward to welcoming you to UNSW.
www.gsbme.unsw.edu.au
Undergraduate Specialisations

Postgraduate Specialisations

Research Specialisations