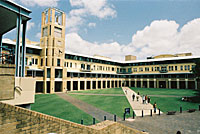 School Website

Overview

The School of Electrical Engineering and Telecommunications at UNSW comprises several discipline areas indicating shared research interests and teaching commitments: Telecommunications; Signal Processing; Energy Systems; Microelectronics; Photonics; Systems and Control. Electrical Engineering and Telecommunications has close links with the pure sciences and mathematics. Its technology is changing rapidly and the School's teaching and research programs are constantly being updated to meet the challenges of present and future needs.
The School offers undergraduate and graduate training in all branches of the professions of electrical engineering and telecommunications. Our degree programs are accredited by the Institution of Engineers, Australia, as meeting the requirements for admission to graduate membership. The School is also associated with the Australian Photonics Co-operative Research Centre which conducts research into optical fibre communication devices and technology.
A very vibrant Co-op program is offered for Electrical Engineering and Telecommunications students. Co-operative scholarships are funded by Australia's premier industries.
For further information on programs of study offered by the School, please refer to the relevant discipline entries in this online Handbook and to the School's website below. We look forward to welcoming you to UNSW.
www.eet.unsw.edu.au
Undergraduate Specialisations

Postgraduate Specialisations

Research Specialisations