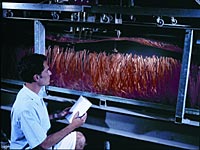 School Website

Overview

The School of Civil and Environmental Engineering undertakes teaching and research in the specialist disciplines of engineering construction and management, geotechnical engineering, structural engineering, transport engineering, water engineering and environmental engineering. The School comprises specialist staff with a broad spectrum of expertise across the disciplines of Civil and Environmental Engineering.

The Centre for Water and Waste Technology is located within the School. In addition to extensive laboratory facilities on the Kensington campus, the School operates the Heavy Structures Laboratory at Govett Street, Randwick, and the Water Research Laboratory at King Street, Manly Vale. The latter complex houses the School's Water Reference Library.

The School offers programs 3620 and 3625 leading to the award of degrees of Bachelor of Engineering in Civil Engineering (BE) and Bachelor of Engineering in Environmental Engineering (BE), at Pass or Honours level. In the Civil Engineering program students may elect to major in structural engineering, geotechnical engineering, transport engineering, water engineering or engineering construction and management.

The School also offers a range of combined degree programs which combine the Bachelor of Engineering degrees in Civil or Environmental Engineering with a range of other undergraduate degree programs and postgraduate degrees in engineering and other disciplines. These combined degree programs provide students with the opportunity to broaden their education and to complete two degrees with a significant saving in time.

The broad objective of the School's undergraduate programs is to develop well-educated graduates with the basic skills, attributes and knowledge required to practise as professional engineers. The desired skills are those that enable graduates to be problem solvers; critical thinkers; life long learners; good communicators; team players; independent investigators; effective managers; self-motivated; and economically, environmentally and socially aware.

For further information on the programs of study offered by the School, please refer to the relevant discipline entries in this online Handbook and to the School's website. We look forward to welcoming you to UNSW.
Undergraduate Specialisations

Postgraduate Specialisations

Research Specialisations