Engineering (MPhil) - 2645
Program Summary
Faculty: Faculty of Engineering
Contact: Faculty
Campus: Sydney
Career: Research
Typical Duration: 1.5 Years

Typical UOC Per Semester: 24
Min UOC Per Semester: 6
Max UOC Per Semester: 24
Min UOC For Award: 72
View program information for previous years
Program Description
The Master of Philosophy is a research degree with a coursework component taken over four sessions full-time or equivalent. The research component will lead to a thesis which embodies the result of an original investigation, design or engineering development. A program of advanced study comprising 3 courses (18 Units of Credit) makes up the remainder of the program.
For full details of the requirements of a UNSW MPhil, see
MPhilpolicy
To graduate, students must complete the requirements specified in the relevant stream.
Students can study the research program in the following areas:
Entry requires a relevant Bachelor's degree at Honours level or equivalent. Students should have been in contact with a potential supervisor before applying for the program.
Program Objectives and Graduate Attributes
Students will demonstrate substantial advanced knowledge in a discipline area with an awareness of existing knowledge and developments in the field.
Students will be able to analyse complex information objectively and apply methods to solve complex engineering problems in a professional, ethically aware manner.
Students will be able to carry out research with autonomy, integrity and originality that makes a significant contribution to knowledge in their field.
Students will be able to disseminate research results and their implications in professional and public domains.
Program Structure
Streams in this program require students to complete 1 research methods course, 1 or 2 Advanced Disciplinary Knowledge courses, and up to 1 Disciplinary Knowledge Course, with this possibility subject to the approval of the Program Authority.
For lists of Advanced Disciplinary Knowledge and Disciplinary Knowledge courses, consult the streams in Programs
8338 Master of Engineering Science
,
8037 Master of Food Science
, and
8543 Master of Information Technology
.
This coursework component of the degree must be completed during the first 2 sessions (full-time equivalent) of a student's enrolment in the program.
Academic Rules
Fees
For information regarding fees for UNSW programs, please refer to the following website:
UNSW Fee Website.
Area(s) of Specialisation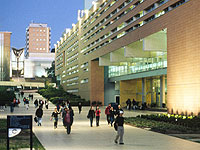 &nbsp