Food Science and Technology - 2031
This Program is no longer accepting new enrolments
Program Summary
Faculty: Faculty of Engineering
Contact: http://www.eng.unsw.edu.au
Campus: Sydney
Career: Research
Typical Duration: 2 Years

Typical UOC Per Semester: 24
Min UOC Per Semester: 12
Max UOC Per Semester: 24
Min UOC For Award: 96
Award(s):
Master of Science (Research)
View program information for previous years
Program Description
THIS PROGRAM IS NO LONGER ACCEPTING NEW ENROLMENTSPLEASE SEE DETAILS FOR THE MASTER OF PHILOSOPHY PROGRAM 2645
This program is designed primarily as a training course in advanced work. The candidate learns the fundamentals of research and acquires certain new techniques. The candidate must undertake an original investigation but this would normally be more limited in scope and degree of originality than for a doctorate.
Although originality is to be encouraged as much as possible, careful supervision is necessary at all times: the work should be closely supervised in the early stages and whenever a new technique is being used.
Program Objectives and Graduate Attributes
Please refer to the section above.
Program Structure
Most Masters research programs normally require three academic sessions of full-time study and preparation of theses. The length of a Masters research thesis normally should not exceed 75,000 words of text.
Academic Rules
Fees
For information regarding fees for UNSW programs, please refer to the following website:
UNSW Fee Website.
Admission Requirements
An Honours degree in engineering or a related discipline from a tertiary institution recognised by UNSW.
Area(s) of Specialisation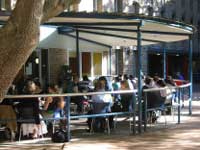 &nbsp