Energy Systems - ELECMS8538
Stream Summary
Stream Outline
The specialisation in Energy Systems is concerned with the generation, transmission, distribution and use of electrical energy. The core courses provide a firm grounding in the key engineering aspects of electrical energy systems as well as an introduction to the theory and implementation of electricity industry restructuring and methods and technologies to enhance electricity industry sustainability, focusing on the Australian case. Elective courses and projects provide the opportunity for in-depth study in each of the above areas.
Stream Structure
Professional Development Courses:- 24uoc (4 courses)
Specialisation Courses - Minimum 24uoc (4 courses):
Please note: ELEC9715 is offered in alternate years.
Engineering Technical Management - Minimum 12uoc - Maximum 24uoc (2-4 courses)
A listing of Engineering Technical Management courses can be found
here
Project Courses:
Please note: ELEC9771 and ELEC9772 can be done on approval of the specialisation authority.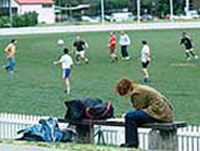 &nbsp