Project Management - CVENQS8538
Stream Summary
Stream Outline
The specialisation Project Management provides education in key areas of project management for engineers working in a range of organisations and at various levels of responsibilities. This specialisation is offered in both internal and external attendance modes, or as a combination of both.
Stream Structure
Professional Development Courses - 24uoc (4 courses)
A selection of professional development courses appropriate to the student's specialisation will be determined by the specialisation authority.

Specialisation Courses - Minimum 24uoc (4 courses):
Engineering Technical Management - Minimum 12uoc - Maximum 24uoc (2-4 courses)
A listing of Engineering Technical Management courses can be found
here
Project Courses:
Students may take CVEN9901, CVEN9930 or CVEN9950 depending on the program they are enrolled in, their performance in courses and the approval of the specialisation authority.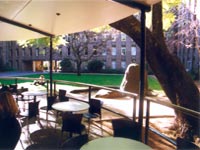 &nbsp