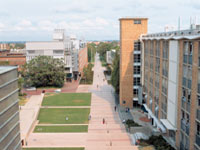 Description

This course examines the ways in which the law of the World Trade Organisation interacts with environmental protection and development. Students will become familiar with the relevant WTO agreements and will gain a solid understanding of the principles of WTO law. Disputes which have raised environmental and development issues before the WTO's Appellate Body are studied in detail. Special attention is given to areas where conflicts have arisen, including trade bans for environmental purposes; the application of the "precautionary principle" in WTO law; intellectual property protection and biodiversity; trade liberalisation, food security and poverty-reduction; and, the adequacy of the special treatment of developing countries under WTO law. Students will also explore closely the relationships between international trade, sustainable development, climate change and carbon trading.

This course is also available to students undertaking relevant postgraduate non-law degree programs at UNSW, provided such enrolment is approved by the appropriate non-law Faculty.
LLM Specialisations

Recommended Prior Knowledge

None
Course Objectives

This course aims to:
Explore the theoretical underpinnings, objectives and core principles of WTO law, in order to understand their relationship to and impact upon environmental protection, biodiversity and sustainable development
Analyse the relationship between the two bodies of public international law (International Environmental Law and International Trade Law), to identify important points of intersection and to consider ways in which they may be interpreted so as to support each other's objectives
Examine the political context in which environmental and development issues are dealt with in the World Trade Organisation
Explore the special needs of developing countries, including the need for food security, and assess the effectiveness and suitability of the principles of WTO law in assisting developing countries to meet these needs
Upon completing this course, it is expected that students will:
Understand the main legal concepts and principles of international trade law
Be familiar with the main points of intersection or conflict between international trade and environment law, including the major disputes brought before the WTO Dispute Settlement System
Be aware of the political context in which these issues and conflicts are being determined and be able to identify the policy debates surrounding them
Be aware of current debates regarding economic approaches to development, their relationship with sustainable development and the place of WTO law in these areas of policy
Have completed an independent research essay on a core topic of trade and environment law
Main Topics

The historical, legal and commercial contexts of international trade law and international environmental law
The 1994 Uruguay Round package of agreements and the core principles of WTO law
The relationship between domestic environmental measures and WTO law
Close examination of the principal trade-environment disputes which have come before the WTO's dispute settlement system, including the Tuna-Dolphin, Shrimp-Turtle, EC-Hormones and EC-GMOs disputes
Biodiversity and patenting life forms under the TRIPS Agreement
Trade liberalisation, economic growth and development
The relationship between trade law principles and 'sustainable development'
Adequacy and appropriateness of the special treatment of developing countries under WTO law
The relationship between international trade and climate change/carbon trading.
Assessment

Class Participation - 10%
Short Answer Question, 700 words - 10%
Research Essay - 80%
Course Texts

Prescribed
Course Materials must be purchased from the UNSW Bookshop. Additional materials will be distributed during classes.
Recommended
Refer to Course Materials.