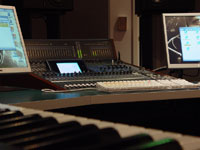 This Program is no longer accepting new enrolments
| | | |
| --- | --- | --- |
| | | |
| | | |
| | | |
| | Campus: Kensington Campus | |
| | Career: Undergraduate | |
| | Typical Duration: 3 Years | |
| | Typical UOC Per Semester: 24 | |
| | Min UOC Per Semester: 3 | |
| | Max UOC Per Semester: 24 | |
| | Min UOC For Award: 144 | |
| | Award(s): | |
| | Bachelor of Arts (Media and Communications) (Honours) | |
| | Bachelor of Arts (Media and Communications) (Combined Honours) | |
| | Bachelor of Arts (Media and Communications) (Major) | |
| | | |
This program is not available to commencing students. It has been replaced by three new programs 3429 B Media (Communication and Journalism), 3428 B Media (Media Production) and 3433 B Media (Screen and Sound).
Details below are provided for the reference of continuing students only.
The program emphasises new computer-based multimedia skills and focuses on Australian media industries in relation to globalisation. The degree is vocationally relevant in its orientation and all students are given significant practical experience in new computer-based multimedia communication technologies.
In addition to studying the Media and Communications core program, students complete a major in the humanities or social sciences, to permit them to study a second field in depth by pursuing their interests in another area. First and second years cover multimedia writing and production and contextual media studies. The third year consolidates the program's emphasis on production and analytical skills. This grounding enables students to interpret, create and apply the products of new media not only in the context of the mass information and entertainment industries but also in a variety of other public and private sector areas such as education, on-the-job training and specialised information services.
A fourth (Honours) year of study is an option for selected students.
Program Objectives and Graduate Attributes
The Media and Communications program aims to develop in students a sophisticated understanding of the history, scope and socio-cultural impact of new media technologies, and of the debates that have accompanied their development and use. Second, it offers extensive experience in the production of new media content appropriate for employment in the contemporary media.
The basic requirements for the degree are:

1. a total of 144 units of credit. Each course offered within the degree has a unit of credit rating, depending on the number of hours taught and the type of course.

2. 48 units of credit in the Media and Communications (MDCM) core program:
First Year
Second Year
Third Year

3. 2 Media electives (12 Upper Level units of credit).

4. 1 elective (6 Upper Level units of credit) from the offerings of the Faculty of Arts and Social Sciences.

5. a major sequence (List A) in one of the following:
AUST Australian Studies
CHIN Chinese Studies
COMD Development Studies
EDST Education
ENGL English
ENVP Environmental Studies
EURO European Studies
FREN French
GERS German Studies
GREK Greek
HIST History
HPSC History and Philosophy of Science
INDO Indonesian Studies
JAPN Japanese Studies
KORE Korean Studies
LING Linguistics
MUSC Music
PECO Political Economy
PHIL Philosophy
POLS Politics and International Relations
SLSP Policy Studies
SOCA Sociology
SPAN Spanish and Latin American Studies
WOMS Women's and Gender Studies
MEFT Film Studies
MEFT Media, Culture and Technology
MEFT Theatre and Performance Studies
A major sequence is an approved progression of courses in a school, department or program: you will find details under the relevant entry.

6. 48 units of credit obtained in Level 1 (first year) courses, including MDCM1000 and MDCM1001, and any first year courses in your major sequence. No more than 12 units of credit can be obtained in first year courses from any one discipline.

7. during their second and third years of study, students are also required to complete courses from the University's General Education program carrying the equivalent of 12 units of credit.
How to Choose Your First Year Program
Enrol in the core courses MDCM1000 and MDCM1001 (see 2. above); then choose one or more areas from 5. above in which you might like to major, and enrol in the appropriate first year (Level 1) courses. Then select additional first year courses to make up a total of 48 units of credit. 24 Level 1 units of credit must be selected from courses offered by the Faculty of Arts and Social Sciences.
Upper Level
In your second and third year, enrol in the prescribed core courses (see 2. above) and the necessary courses for your major sequence. The additional units of credit should be taken in other Upper Level courses and in courses from the University's General Education program. Try to spread your workload evenly over the four sessions of study.
General Education Requirements
Students are also required to complete 12 units of credit from the University's General Education program during their second and third years of study. For further information, please refer to "General Education" in the Table of Contents (see left-hand side of this page).
Pass Degree

To qualify for the award of the degree at Pass level, a student must obtain, normally over three years of study, a minimum of 144 units of credit in approved courses including:

1. the core program (48 units) in Media and Communications;

2. a major sequence from List A of the BA Rules;

3. a total of 48 Level 1 units of credit, including no more than 12 in any one sequence of study, from Lists A, B and C of the BA Rules;

4. two Upper Level Media electives outside the core program;

5. 12 units of credit from the General Education program, normally taken in the second and third year of study;

6. The Pass degree of Bachelor of Arts (Media and Communications) may be awarded with Distinction where a candidate has achieved a weighted average mark (WAM) of at least 75% in all courses completed since enrolment at UNSW which are credited towards the degree.

Honours Degree

To qualify for the award of the degree at Honours level in one or two Schools/specialisations, a student must:

7. have obtained 144 units of credit in accordance with 1.-5. above and satisfied the appropriate prerequisites for entry to the Honours level program;

8. obtain a further 48 units of credit in an approved Honours program.

Entry to the Honours program is subject to resources and the Head of School's approval.

The Honours degree is awarded in three classes (Class 1, Class 2 in two Divisions and Class 3). Students who fail to obtain one of these classes may proceed to graduate with the Pass degree.

Students interested in Honours should speak to the Program Coordinator in their 2nd year of study.
Area(s) of Specialisation