Electrical Engineering - ELECAH3961
Stream Summary
Stream Outline
Stream Structure
Choose ONE of:
And ONE of:
And ONE of:
And ONE of:
Plus these following courses:
Students choosing the recommended ELEC1111 and COMP1521 Year 1 electives will gain two L3/L4 electives later in the program.
Students studying COMP1911 may be required to take a bridging course before enrolling in COMP1521.
Students wishing to take further computing after 1st year should take both COMP1511 and COMP2521.
Not all courses are offered in both semesters but students should complete 24 UOC in each semester.
Students in BE(Hons)/BSc (Computer Science) dual degree should take COMP1521 as one of their first year electives.
Plus these following courses:
1 Elective (Year 3 or Year 4) (6 UOC)
Industrial Experience Requirements
Substitutions must be of at least the same length and level as the prescribed course.
Core courses may not be substituted with other courses.
Substitution is not normally permitted if it unduly restricts the range of courses studied to only one area of specialisation.
Progression to 'next level' courses is not permitted without satisfying the nominated pre-requisites.
In the case of a concurrent degree program, accreditation of any course in more than one program is not permitted.
Prior School consent is required for any accredited substitution. This includes any courses taken from other schools at the student's own initiative.
Substitution is not normally permitted in the first two years of the program.
Substitution of one postgraduate course within the School is permitted, provided a similar course is not offered at the undergraduate level.
Student exchanges are permitted, and students are encouraged to organise their exchange in the second semester of their third year in order to simplify the process of accrediting substitutions.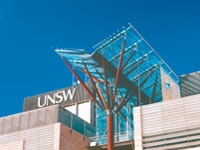 &nbsp