Geography - AGOCA14400
Stream Summary
Stream Outline
All Geography courses are available to both Arts and Science students. The School makes no distinction in curricula between students who are enrolled in the degrees of Bachelor of Arts and Bachelor of Science.

Geography is the study of both the physical and human environments in which we live and the interactions between people and nature. Geography provides a bridge between the social and natural sciences. It provides students with the techniques to analyse our environment and society, including Geographic Information Systems and Remote Sensing.
Stream Structure
Level I Geography

In both Level I courses an integrative approach is developed to the understanding of environmental processes and human activities that take place on the surface of the earth.

Level II Geography

In Level II Geography, students can begin to specialise in the systematic branches of the discipline, either human or physical geography, or integrate a mixture of courses with development and environmental management.

Potential honours students are encouraged to take more than 12 UOC of Level II Geography.

Level III Geography

While there is no specified assumed knowledge for Level III Geography courses, it is generally expected that students will have completed some Level II Geography before enrolling in Level III. Students who have not done this should discuss their intended enrolment with the Head of School or relevant course convenor.
A major sequence in Geography comprises of two Level I courses:
plus 12 UOC from the following Level II courses:
plus 24 UOC from the following Level III courses:
To complete a major in Geography, students must complete at least one Level II course that includes a residential field school (currently ZPEM2202 Ecological Biogeography or ZPEM2207 Social Geography) and a Level III Geography course that includes a residential field school (currently ZPEM3208 Geographic Research Methods).
Honours
Geography Honours is designed for students showing a special interest in and aptitude for work in the discipline and who satisfy the requirements for entry into either the degree of Bachelor of Arts with Honours or the degree of Bachelor of Science with Honours. The Honours program provides students with the opportunity to undertake a research project and to present their results in a thesis. Coursework in the form of seminars, lectures and assignments is also normally undertaken.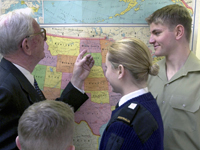 &nbsp