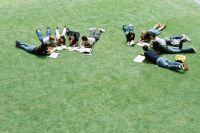 Description

During Summer Term, this course is available as General Education to students from faculties outside the Australian School of Business.
All students taking this course during Summer Term 2009/10 will be required to pay full tuition fees. This includes Commonwealth supported students who are studying at UNSW. Please see Australian School of Business courses - Summer Term fees 2009-10 for more information.
This course examines: mathematics of finance: (compound interest, present value, annuities); matrix algebra: (operations with matrices, determinants, matrix inverse, rank, solutions to matrix equations); the graphical approach to linear programming; calculus: (univariate differentiation, maxima and minima of a function, functions of several variables, partial derivatives, unconstrained and constrained optimisation) and the applications of the above concepts and techniques in accountancy and economics, including the use of spreadsheet computer programs.
Assumed Knowledge: A level of knowledge equivalent to achieving a mark of at least 60 in HSC Mathematics. Students who have taken General Mathematics will not have achieved the level of knowledge which is assumed for this course.