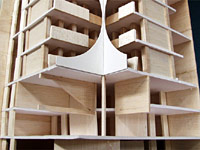 Description

This course provides students with a unique opportunity to build and erect a significant structure designed previously through another elective BENV2723. This experience is in a multi-disciplinary environment and will included academics, practitioners and students from three design faculties (Faculties of the College of Fine Arts, Built Environment and Engineering).Students will be working together to construct a project.

These projects have real clients, budgets and time constraints.


Previous projects have included Love Shack (2003), Love Shack (2004), Bamboo Love Shack (2005), and Project X (2007).