Public Health (PrDoc) - 1836
Program Summary
Faculty: Faculty of Medicine
Contact: fhl.sphcm@unsw.edu.au
Campus: Sydney
Career: Research
Typical Duration: 4 Years

Typical UOC Per Semester: 24
Min UOC Per Semester: 12
Max UOC Per Semester: 24
Min UOC For Award: 144
Award(s):
Doctor of Public Health
View program information for previous years
Program Description
The Doctor of Public Health (DrPH) is a three year full time equivalent program for candidates
accepted into the UNSW Future Health Leaders Program. Individuals are nominated by their
organisations, with acceptance into the program is contingent on selection by UNSW. The
degree will provide coursework and training in applied research skills relevant to Public Health.
The DrPH will involve intensive, structured coursework around the core competencies as well as
practice-based placements in the field, and submission of a thesis. The course work includes
one-day seminars and training days covering a range of topics such as Aboriginal health,
cultural awareness, drugs and alcohol, health privacy, prison health, public health law and
refugee health.
For further information please visit the
Future Health Leaders - Doctor of Public Health Website
.
Program Objectives and Graduate Attributes
This program has been designed with relevance to the workplace as a priority. Applicants are employer-employee pairs where the employer has identified you as a future health leader in whom they want to invest for the benefit of the workplace. UNSW works with the employer employee pair to ensure the program and the professional doctorate reflect the needs and skills development required by both parties.

Traditionally higher degrees have focused on ensuring the development of research and critical thinking skills in individuals. Professional doctorates do the same, but reflect health practice in the workplace and also incorporate real time, real work benefits for candidates and employers. Because your research focuses on your workplace, you receive the benefit of being able to integrate your studies into your day-to-day work.

The UNSW Future Leaders Program provides an opportunity for strengthening health leadership capacity within the organization through you, the future leader. During this program you will have access to regular workshops, during which you will learn how to plan and undertake research and evaluation projects, skills which you will immediately put into use in your organisation. Research shows that staff members who feel engaged and supported are more likely to remain with their employers. So the benefits for you and your organisation are that you will develop your skills to a higher level and be able to directly contribute your growing expertise and experience to your organisation while you learn.

This program has been designed specifically to meet the needs of both individual students and their employers. This benefits both parties.
Program Structure
The program structure is a 3-year field-based. The program leads to a Doctor in Public Health (DrPH).
Academic Rules
Fees
For information regarding fees for UNSW programs, please refer to the following website:
UNSW Fee Website.
Area(s) of Specialisation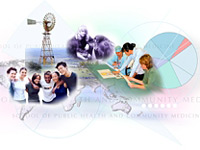 &nbsp