Indigenous Studies - 1110
Program Summary
Faculty: DVC (A) Board of Studies
Contact: http://www.nuragili.unsw.edu.au/research
Campus: Sydney
Career: Research
Typical Duration: 4 Years

Typical UOC Per Semester: 24
Min UOC Per Semester: 6
Max UOC Per Semester: 24
Min UOC For Award: 144
View program information for previous years
Program Description
This Program covers study towards the PhD undertaken in Indigenous Studies offered by the Nura Gili Indigenous Programs Unit. Indigenous Studies is an interdisciplinary field of study which engages, contests and builds on earlier understanding of Indigenous societies developed through the disciplines of anthropology, archaeology and linguistics and viewed through the Western imagination. The challenges in understanding the contemporary position of Indigenous Australians also brings Indigenous issues into the realm of academic inquiry in Australian history, Australian literature, the fine arts, education, psychology, politics and public policy, sociology, law, social work, medicine, health, and the natural and built environment.
For details on the disciplinary and cross-disciplinary areas of research which are offered for PhD supervision, visit the Nura Gili website.
The Doctor of Philosophy (PhD) degree is offered in all faculties of the University of New South Wales and encourages initiative and originality in research. Candidates should make a significant contribution to knowledge in their field.
Program Objectives and Graduate Attributes
The Doctor of Philosophy (PhD) degree encourages initiative and originality in research. Students will make a significant contribution to knowledge in their field and will be competent to carry out research in their chosen area.
Program Learning Outcomes
• Scholars capable of independent and collaborative enquiry, rigorous in their analysis, critique and reflection, and able to innovate by applying their knowledge and skills to the solution of novel as well as routine problems
• Entrepreneurial leaders capable of initiating and embracing innovation and change, as well as engaging and enabling others to contribute to change
• Professionals capable of ethical, self- directed practice and independent lifelong learning
• Global citizens who are culturally adept and capable of respecting diversity and acting in a socially just and responsible way
Program Structure
This program involves a minimum of three years full-time study. Students undertake supervised research leading to the production of the thesis. The length of a doctoral thesis normally should not exceed 100,000 words of text and should be submitted for examination within 4 years of full-time study.
Academic Rules
Fees
For information regarding fees for UNSW programs, please refer to the following website:
UNSW Fee Website.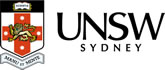 &nbsp