Planning - 8147
Program Summary
Faculty: Built Environment
Contact: Built Environment
Campus: Sydney
Career: Postgraduate
Typical Duration: 1.5 Years

Typical UOC Per Semester: 24
Min UOC Per Semester: 6
Max UOC Per Semester: 24
Min UOC For Award: 72
Award(s):
Master of Planning (Specialisation)
View program information for previous years
Program Description
Planning is a dynamic activity that impinges on many aspects of everyday life in metropolitan and rural areas. Planning as a general term can mean an activity that seeks to provide an alternative to uncoordinated and ad hoc decision-making. For cities, suburbs and regions, planning targets the development, improvement, conservation and general management of the environment. There are in fact many specialist areas of planning: land use, social, transport, regional, and so on.

The MPlan degree addresses many of these aspects. Core courses cover skill and knowledge areas essential for practising planners. The program has been structured to offer the option of taking a general degree or a concentration in one of four fields (Environmental Sustainability; Urban Management and Governance; Urban Design; and Urban Modelling) by choice of electives and topic of the Planning Project. The Planning Project provides an opportunity for students to undertake more detailed applied or theoretical research into an area of planning of personal interest by producing a dissertation of publishable quality.

The programs are available to suitably qualified local and international students and provide opportunities for full-time or part-time study.
Admission Requirements
A relevant Bachelor's degree in one of the following subject areas with a minimum of a credit average.

Built Environment subject areas
Social, economic and environmental science subject areas
Law/Jurisprudence
Environmental and Civil Engineering subject areas

Applicants with Bachelors degrees in other subject areas but who have been working in an urban planning environment (either as a planner or planning-related field) for one year or more may also be considered.

Where an applicants qualifications are not considered adequate, admission may be permitted to the Graduate Certificate or Graduate Diploma, with the possibility of upgrading to the Masters program, subject to satisfactory performance.
Career Opportunities
Planners are employed under many different labels in many different organisations with some stake in the built environment. The major employment sectors are state and federal government departments (dealing with land use, development, transport, heritage, infrastructure, urban services etc), local councils, consultant planners, property companies, and environmental organisations. There is an increasing demand for planners and other built environment professionals with appropriate knowledge and skills that the MPlan Program offers.
Program Objectives and Graduate Attributes
The new Program aims to produce high quality graduates who have acquired UNSW Graduate attributes and are capable, through their skills, knowledge and experience, of undertaking a wide range of tasks expected of qualified planners. The MPlan Program seeks to offer students the choice of either developing their general planning knowledge or of focusing their knowledge of planning by electing to focus in a particular field of study. The core courses identified for the Program, as well as a larger Planning Project and the wide range of electives offered, reflect the ever widening subject areas of planning and the concomitant skills and knowledge base required by practitioners. Courses offered in the MPlan Program are aimed to satisfy the key competency areas required of a qualified planner by the Planning Institute of Australia.
Program Structure
The MPlan Program is taken over three academic semesters (full-time equivalent), and requires the successful completion of 11 courses totalling 72 units of credit. The 72uoc in the Program comprise seven core courses (42uoc), a Planning Project (12uoc), and three electives (18uoc).

The MPlan Program offers an articulated coursework Planning degree. That is, students may elect to enrol in the Graduate Certificate in Planning (24uoc), consisting of at least three core courses (18uoc), and progress to the Graduate Diploma in Planning (48uoc), consisting of the remaining core courses and one elective if required, or the MPlan (72uoc) by completing the remaining elective requirements of this degree.

Core courses cover skill and knowledge areas deemed crucial for practising planners. The Program has been structured to offer the option of either taking a general degree or specialising in one of four fields of study. Depending on the choice of electives and 12uoc Planning Project, a general MPlan degree may be taken, or one with a concentration in the following fields of study: Environmental Sustainability; Urban Management and Governance; Urban Design; and Urban Modelling.
Year 1 Semester 1
Elective Course (see list below)
Year 1 Semester 2
Elective Course (see list below)
Year 2 Semester 1
Elective Course (see list below)
Elective Courses
Students have the opportunity to concentrate their studies in one of four particular fields:
Environmental Sustainability Stream
Urban Governance and Management Stream
Urban Design Stream
Urban Modelling Stream
Academic Rules
Advanced Standing
Some advanced standing may be granted for completed or partially completed postgraduate awards from UNSW or from another institution. When considering the granting of advanced standing on the basis of previous postgraduate study at another institution, the program authority will take into account the quality of the institution and the quality, level and content of courses previously undertaken.
Professional Accreditation
The Master of Planning degree is accredited by the Planning Institute of Australia (PIA). Master graduates are eligible, subject to professional experience requirements, for corporate membership of PIA.
Fees
For information regarding fees for UNSW programs, please refer to the following website:
UNSW Fee Website.
Area(s) of Specialisation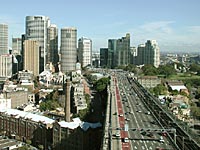 &nbsp