City Planning - 5148
Program Summary
Faculty: Built Environment
Contact: Built Environment
Campus: Sydney
Career: Postgraduate
Typical Duration: 1 Years

Typical UOC Per Semester: 24
Min UOC Per Semester: 6
Max UOC Per Semester: 24
Min UOC For Award: 48
Award(s):
Graduate Diploma in City Planning
View program information for previous years
Program Description
Planning is an exciting, varied and progressive profession which plays a pivotal role in decisions shaping the future of cities and regions. Planners need to see the whole picture: we need to be good thinkers, good analysts and good communicators. We work with stakeholders across the spectrum of interests – from global developers to local communities – to foster feasible, equitable and sustainable outcomes. Sydney and NSW provide a fantastic laboratory to help understand the crucial role played by planners in addressing complex challenges, systematically placed in its global context through critical analysis and drawing upon best practice. The Graduate Diploma in City Planning [GDCP] degree is designed for students with an undergraduate qualification in a related discipline seeking to move into a planning or planning-related field. It is also tailored for professionals working in other sectors, especially those whose work may intersect with the planning system or requires involvement with planning agencies. Subject to progress, students can articulate from the GDCP into the Master of City Planning.

Career opportunities

The Grad Dip in City Planning [GDCP] degree provides an excellent platform to take up planning and urban policy-related opportunities across all tiers of government (Federal, State, local), private sector consultancies, property development, and indeed the breadth of built environment professions where planning skills are required. The interdisciplinary skill sets developed through the diploma also enable graduates move into wider policy, research, analytical, creative and community roles both in Australia and overseas.
Program Objectives and Graduate Attributes
The Grad Dip in City Planning aims to produce high quality graduates who have acquired UNSW Graduate attributes and are capable, through their skills, knowledge and experience, of undertaking a wide range of tasks required of a qualified planning practitioner. As well as preparing for the profession, a planning degree provides lifelong analytical, collaborative and communication skills much in demand more widely. On completion, graduates will be able to:
Apply disciplinary knowledge and skills in addressing multi-scalar challenges and perspectives shaping space and place
Apply concepts and principles of urban planning in practice
Examine and evaluate international issues, perspectives and opportunities within their field of study
Implement systematic knowledge and analytical skills to synthesise complex information and reach appropriate evidence-based decisions to inform planning issues and actions
Develop innovative and multidisciplinary knowledge and plans to facilitate and influence appropriate social, economic and environmental outcomes
Work effectively in a collaborative environment and communicate with a range of stakeholders to inform, consult and engage them in planning processes
Practice professional and ethical conduct and personal accountability consistent with the expectations of the planning profession and the community when engaged in planning roles and activities
Program Structure
The Grad. Dip City Planning is part of the articulated postgraduate degree offered by the Planning Program in the Faculty of Built Environment. Students are required to complete 48uoc, primarily comprising core courses [42uoc] and one elective option.

Core Courses [42uoc]

Core courses collectively fulfill the need to;

a) ground students in the foundations or pillars of a planning education (sustainability, economic, equity issues)
b) develop an understanding of the defining components of a planning qualification (planning law, land use policy and practice, strategic spatial planning) and
c) more detailed knowledge and skills development (planning techniques and analysis, urban design, city building)

Students must take 36uoc (6 courses) from the following courses:

Foundational and cognate knowledge
Disciplinary Knowledge
Students must select 6uoc (1 course) from the following list of courses:

Disciplinary skills
Elective Courses (6uoc)

Students should select 6uoc (1 course) from the following list of courses:
This list of recommended electives represents an amalgam of elective options specified against the four specialist pathways offered within the Master of City Planning. Where Grad. Dip students are intending to articulate into the MCP and propose to follow one of the four pathways, they are advised to select an elective which can be used as advanced standing for that pathway upon credit transfer from the Grad Dip to MCP.

Students may also take one of the two MCP disciplinary skills courses not taken in fulfillment of their Grad Dip core course requirements in lieu of this elective. Again, this may be a particularly appropriate option for students seeking to articulate from the Grad Dip to Grad Cert.
Academic Rules
Program Duration

The Grad Dip is a 48 uoc Program, with students undertaking the degree full-time expected to complete their studies within two semesters/one year.

Admission requirements

A Bachelor degree with a credit average or above (WAM 65+). Advanced standing may also be granted for completed or partially completed postgraduate awards from UNSW or from another institution. Students who do not meet these requirements may be eligible to commence their postgraduate planning studies through taking the Grad. Cert.

Articulation arrangements

Students commencing their studies in the Program at the Grad Cert or Grad Dip level will be able, subject to satisfactory performance, to progress to the next stage within the articulated program.

Students initially enrolling in the MCP who decide during their studies that they wish to exit early will - subject to meeting the specified requirements at either the relevant level - be able to exit with either a Grad Dip or Grad Cert.
Fees
For information regarding fees for UNSW programs, please refer to the following website:
UNSW Fee Website.
Area(s) of Specialisation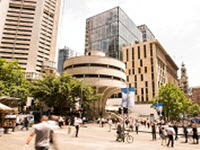 &nbsp