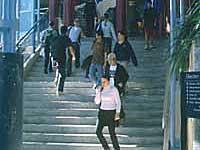 | | | |
| --- | --- | --- |
| | | |
| | | |
| | | |
| | | |
| | Campus: Kensington Campus | |
| | Career: Postgraduate | |
| | Units of Credit: 6 | |
| | | |
| | Indicative Contact Hours per Week: 2 | |
| | Enrolment Requirements: | |
| | Prerequisite: LAWS1001 and LAWS1011 and Corequisite: LAWS2311; Prerequisite: JURD7101 and JURD7111 and Corequisite: JURD7211 | |
| | Excluded: LAWS8064 | |
| | | |
| | | |
| | | |
Description

The effective regulation of areas such as competition law, securities, financial services and taxation requires the availability and use of enforcement techniques, including litigation. This course examines the procedural aspects of litigation in the regulatory context. The course addresses litigation issues common to all regulatory schemes such pre-litigation processes which are characterised by a regulator's investigation and information gathering powers and criminal law aspects of regulatory litigation. Three different regulatory schemes and their regulator (Competition Law/ACCC, Securities Law/ASIC and Tax Law/ATO) are then examined from the perspective of enforcement and litigation.
Recommended Prior Knowledge

None
Course Objectives

A candidate who has successfully completed this course should be able to:
understand the role of enforcement through litigation in regulation
be familiar with regulator investigation and information-gathering powers
understand the differences and complexities associated with regulatory litigation such as the use of expert evidence, role of pleadings and unique remedies available to a regulator
comprehend the role of criminal proceedings in regulation
Main Topics

The role of enforcement in regulation
Pre-Litigation Processes
Competition Law Litigation
Securities and Financial Services Litigation
Tax Litigation
Criminal Law Aspects of Regulatory Litigation
Special Topics eg class actions, Royal Commissions.
Assessment

Research Essay – 80%
Class Participation – 20%
Course Texts

Course Materials will be available for purchase from the UNSW Bookshop
Recommended
Tom Middleton, ASIC Corporate Investigations & Hearings (Online/Looseleaf)
Russel Miller, Annotated Trade Practices Act
CCH Australian Federal Tax Reporter
Stephen Odgers, Principles of Federal Criminal Law
Resources

Refer to the course outline which will be provided by the lecturer at the beginning of the relevant semester.