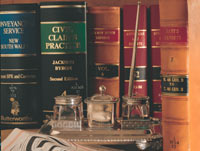 Description

For the purposes of this course, 'environmental law' is defined to mean that area of law concerned with managing the impact of human activities on the environment. This course provides a framework for understanding the environmental issues which humans are faced with today and the implications of these issues for law making and policy. Within that framework this course will provide students with an introduction to key areas of environmental law in New South Wales and at a federal level. The course will explore a number of cross-cutting themes that influence current debate in relation to environmental law and policy.
Recommended Prior Knowledge

None
Course Objectives

At the end of this course you should be able to:
Have a good understanding of the international context of environmental law, particularly in relation to environmental conventions and other international instruments
Have a good understanding of the principles of Ecologically Sustainable Development (ESD) and the difficulties faced by decision-makers in implementing these principles at an international, federal, state and local level
Have a good understanding of the framework of laws for environmental planning, development control, environmental impact assessment, the protection of biodiversity, heritage and pollution regulation in NSW and nationally
Have a good understanding of the workings of the New South Wales Land and Environment Court
Have an appreciation and understanding of the difficulties and disadvantages the community faces when engaging in environmental decision making
Main Topics

Environmental policy & regulatory mechanisms
Sources of environmental law: international and domestic
Commonwealth, State and local responsibilities
Pollution control and enforcement
Oceans and fisheries management
Protection of biodiversity
Native vegetation
Planning and development control
Climate change: mitigation and adaptation
Assessment

Class participation 10%
Research essay 40%
Take home exam 50%
Course Texts

Lyster, Lipman, Franklin, Wiffen and Pearson Environmental and Planning Law in NSW (2007, Federation Press) or later edition.
Reading materials from the UNSW Bookshop
Recommended
Refer to Course Outline provided by lecturer.